JA Virtual Speaker Series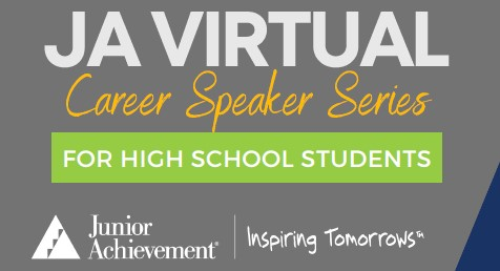 The JA Virtual Career Speaker Series features special guest speakers sharing information about his or her career, work, and education experiences. This program is part of the JA Work and Career Readiness Pathway.
Objectives
Student objectives will vary based on grade level. Students will:
Identify skills and interests.
Recognize career clusters.

Practice active listening skills.
Outline
The JA Virtual Career Speakers Series activities will vary based on grade level.
Below is a sample outline:
Before the Speaker Event (teacher-led, optional session)
Teacher prepares students for live or recorded event and reviews materials.
Students research jobs and background related to guest speaker's profession.
Optional supplements may also be completed.
During the Speaker Event
Volunteer speaker shares his or her job experiences and stories to offer insight and guidance for career education.
Students are encouraged to take notes in their Student Guides.
After the Event
Students report one or two of the most significant things they each learned from the preparation and speaker event.
Students write a thank you note to the speaker. They should use proper business letter format and include at least three examples of what they learned about the speaker's company, his or her job, and the skill and preparation necessary for that job.
Create a Career Cluster Scavenger Hunt.
Optional supplements may also be completed.
For questions about student participation, please contact Sheila Farrell by email sfarrell@jastl.org or phone at 636-634-1116
Register Students to Participate
Select a button below to see how you or your organization can get involved with Junior Achievement of Greater St. Louis, Inc..
Donate
Volunteer
Request A Program