JA Summer Camps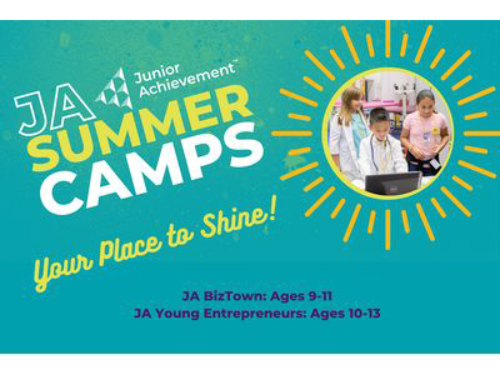 Please join us for the return of In-Person Summer Camp! Click on the camp name under Related Events for more details and registration information.*
JA BizTown Camp (June 13-17, 2022): ages 9-11 (must have completed 3rd grade) - Registration Closed!
JA Young Entrepreneurs Camp (June 20-24, 2022): ages 10-13 (must have completed 4th grade) - Registration Closed!
Registration is on a first-come, first-served basis.
Lunch: Each camper needs a brown-bag lunch daily. Junior Achievement provides drinks and a snack each day.
Appropriate Dress: Campers should dress modestly, comfortably, and appropriately. This is an academic camp; however, learning involves active games and lessons. Athletic shoes are recommended.
Payment and Refunds: Payment will be invoiced shortly.
Medication: If your child has medication that must be dispensed during the camp day, please send all medication to camp in a large, zip bag clearly marked with your child's name. All medication should be in the original container with a signed parental note, which clearly states dispensing directions.
Extended Care: Extended care is available from 7:30 a.m. to 5:30 p.m. for an additional fee. There will be a late fee of $1.00 per minute for pick up after 5:30 p.m. A $25 late fee per morning or afternoon will be charge to all parents deciding to use extended-care services (7:30-9:00 a.m. or 3:00 - 5:30 p.m.) on an "as needed" day-to-day basis. Junior Achievement reserves the right to cancel extended care if enrollment is inadequate.
Please contact Shelly Warner at swarner@jastl.org with any questions about summer camps.
*JA reserves the right to cancel camps should Covid interruptions, or insufficient enrollments, occur.